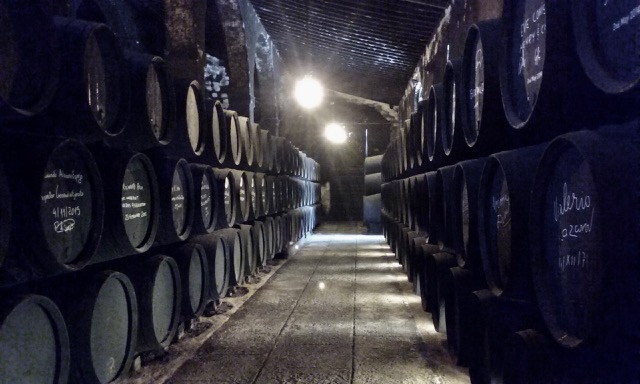 When I was young, a glass of sherry was something my great aunts and other old ladies sipped from etched crystal glasses, accompanied by sweet biscuits and muted gossip. The names on the bottles were Bristol Cream and Dry Sac, which sounded much more English than Andalusian. Most of the old ladies have long since passed away and I have not had much expose to sherry since. But that was before we moved to Spain and went on a tour of one of the country's oldest and most venerable sherry bodegas.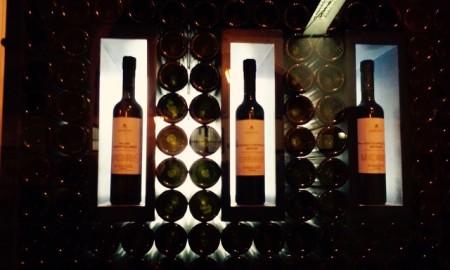 A sherry is a fortified wine usually made from the green grapes of the Palomino, Muscatel or Pedro Ximenez variety. To be legally classified as such, the sherry needs to originate from Andalucia's so called sherry triangle formed by the three towns with the long and intricate names of Jerez de la Frontera, Sanlúcar de Barrameda and El Puerto de Santa María. Only this area with its chalky white soil presents the right growing conditions for this special wine, which achieved Spain's first Protected Designation of Origin status in 1933.
The name sherry is an anglicised version of Xeres or Jerez. There are a rich variety of sherry wines to satisfy any taste and accompany almost any dish. On the lighter side, there is the dry, straw coloured Manzanilla and Fino that locals enjoy as an aperitivo. Moving on, there are the darker and slightly heavier versions with musical names like Amontillado and Oloroso, and finally we end up with the sweet dessert wines called Pedro Ximenez, from a grape of the same name.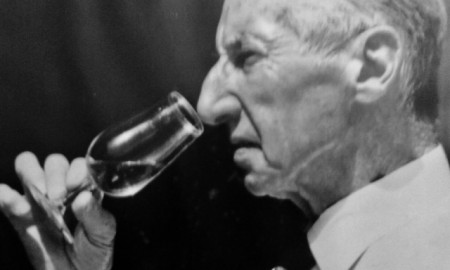 We made a visit to the Bodega Fundador, which we were told was Jerez' oldest winery. The company began producing what we now know as sherry in a converted olive mill in 1730 and the building is still in use up to this day. In the 1840's, the company began distilling their famous brandy, today not only universally known, but according to some the word's biggest brandy producer with over 30 million cases sold last year. Initially owned and run by the famous Anglo-Spanish semi-aristocratic family of Domecq, the present owner is now from the Philippines. This new acquisition adds to the global brand, since former owners also have been English, Americans and Chinese.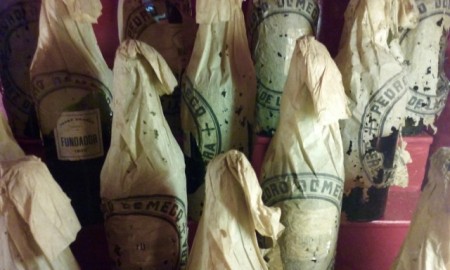 The international connection is nothing new. Wine has been produced in Jerez since the times the Romans ruled these lands some 2000 years ago. Later, during the seven centuries that the Arabs ruled the Iberian continent, the Moors who were not being able to drink wine for religious reason, distilled the wine for medicinal and antiseptic use. After the Spanish expulsion of the Moors in the late 13th century, the wine spirit was again made for human consumption. The production was actually so considerable that it was subject to a Wine Spirit Tax by the 16th century. While the Netherlands imported most of the early Spanish brandy, the English favoured the softer cousin, the sherry. It is said that when Sir Francis Drake plundered the port of Cádiz in 1587, part of his loot was three thousand casks of sherry. While the English might not have come by their favourite dessert wine through legal means initially, it certainly began a gustatory love affair that is alive up to this day.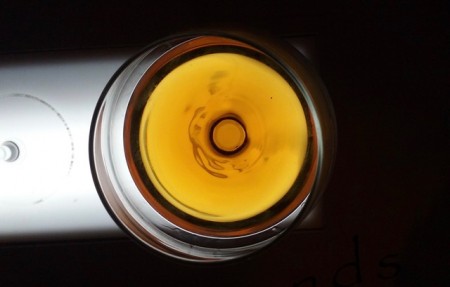 Our sherries are very spoilt, said Lourdes, our friendly guide before bringing us into El Molino, Fundador's first and oldest bodega. It may seem odd to describe a wine as spoilt or 'mimado', but after learning about the long and labour intensive journey from grape to bottle, I would tend to agree.
What immediately hits you when entering the soon 300-year-old bodega is the smell, or should I say the attack on the olfactory senses. The scent is a mixture of rich wood, some type of sweet nectar, spilled wine turned into vinegar, old cellar mould and wet stone. The temperature of the enormous bodega is kept constant in the balmy mid teens, 18 degrees Celsius and 70% humidity being the ideal. This is achieved naturally through the building's construction and its orientation. Windows at the far end of the halls facing towards the coast offer ventilation as they admit the cool sea breeze in the evenings and early mornings, while traditional woven straw blinds keep the hot midday sun out. Bodegas were normally built large and high with meter-thick white walls for thermos properties, tiled roofs that would breathe and floors covered with sand, which could be watered down to keep the humidity high.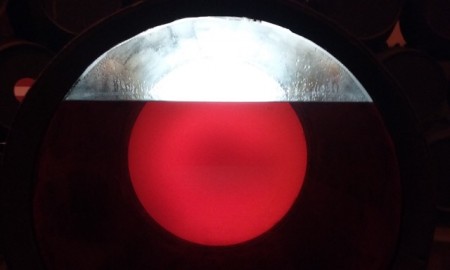 The El Molino bodega itself is an endless warehouse of hall after hall of old wooden barrels, stacked on top of each other, three layers high. The bottom layer from which the final product is extracted is called solera (or on the ground). The layers of barrels cradled above these are called criadera (or nursery) 1 and 2. New wine is introduced into nursery 1, and gradually, usually annually, moved down to the older nursery and finally to the solera where the oldest, most mature wine is stored. Only after the fermentation is completed is the base wine fortified with grape spirit to reach the desired alcohol content. No cask is ever drained and never is more than one third of a barrel removed, allowing for the different generations of grapes to blend. This type of ageing (also used for a wide variety of other products, including port and balsamic vinegar) is called fractional blending. It assures that every bottle produced will have a mixture of ages of wine, which increases gradually as the process continues over the years. Some soleras therefore can date back hundreds of years.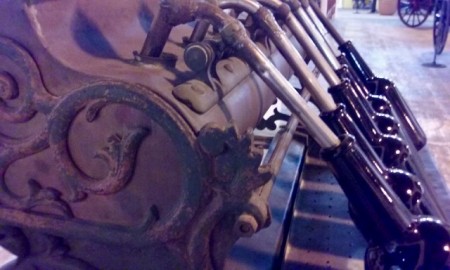 The barrels that Fundador uses are made of American oak. All casks are impregnated with wine before use, since new barrels would give too strong a wooden taste for this type of product. The old sherry barrels are widely sought after by whisky makers, so some of the sherry producers in the Jerez area sell off the used barrels to Scotland. Fundador however, hangs on to every old barrel, rather mending them and using them for year after year. Nothing is wasted here, says Lourdes, explaining that even if a barrel of sherry goes spoilt, it will be made into Pedro Ximenez vinegar.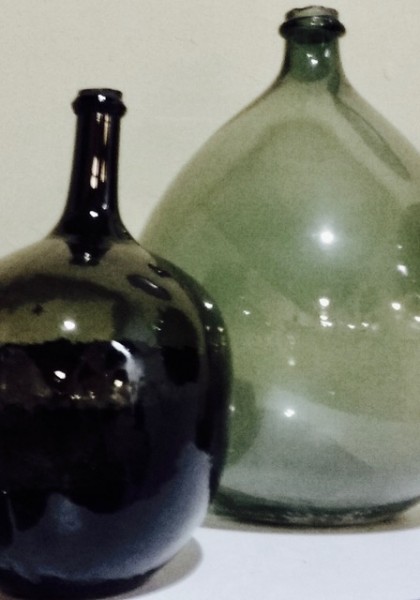 Prior to tasting the product, we were lead through Fundador's collection of old bottles, bottling machines, distillery contraptions and an impressive collection of vintage sherries and brandies. Here, we got to smell the process through which their spirited wine will go to produce the different sherry types. Because the fortification takes place after the fermentation, a sherry is initially dry with any sweetness being added later. Fino and Manzanilla are fortified until they reach an alcohol content of 15.5 per cent by volume. As they age, they develop a layer of yeast-like growth that helps protect the wine from excessive oxidation and keeping its light colour. This dry aperitif wine, with a slight aroma of almonds, is perfect served on ice with our without a nibble of Payoyo goat cheese. The Oloroso sherry is allowed to oxidise in the barrel until it reaches an alcohol content of at least 17 per cent. It is rich amber in colour, has a slight hazelnut aroma and goes splendidly with Iberian ham. The Amontillado sherry is somewhere between a Fino and an Oloroso, while the exportation favourite Cream Sherry is an Oloroso into which the naturally sweet Pedro Ximenez wine is added. Jerez brandy is made by aging wine spirits in former sherry casks. Like we were told, nothing is wasted.
Of course, no sherry tour is complete without a tasting, of which we did ample. Though we seemed to go through them all, our favourite one was hard to point out, so we had to bring a few bottles back home for further investigation.
Needless to say, I am starting to realise that my great grand aunts were onto something. A glass of sherry, like a bit of history, is a most worthy cheer.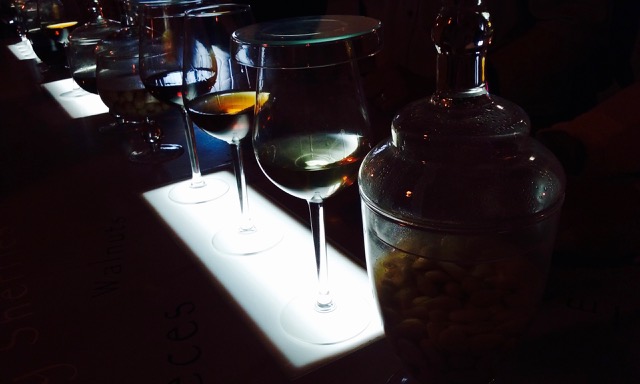 Read / Add Comments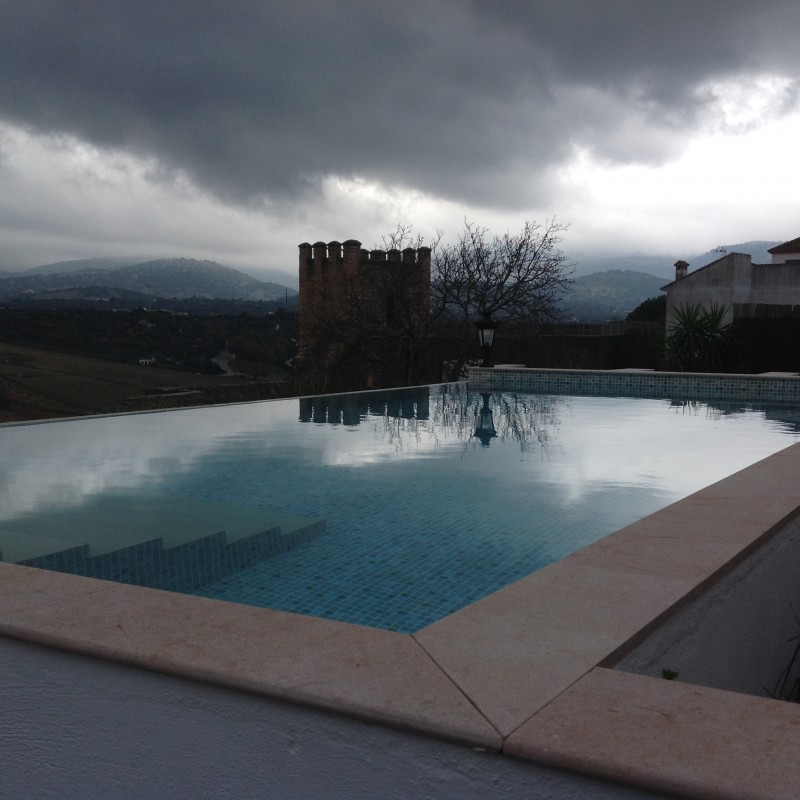 Have you ever had an urge to stay in a monastery, yet not exactly wanted to join the order, sleep on a narrow cot or get up for 4 am prayers? Then Ronda's newest hidden, yet ever so central boutique hotel might just be what you have been looking for.
My husband and I thought that our Ronda building permit saga was the ultimate test in patience, with months of waiting, refusals, reapplications and even an archaeological dig. But that was before we spoke to John and Carol Small. Our application was merely to restore a tiny village home, but they had a much more ambitious project in mind. The Small's had bought the adjoining church to a former monastery and decided to convert it into a hotel. This may seem like a simple preposition to some, but for most of us who reside in Spain, or certainly in the southern part of the country, we know that this kinds of reformations may take years, indeed forever, especially if said property lays within the historical quarter of Ronda, otherwise called the ciudad soñada or the city of dreams.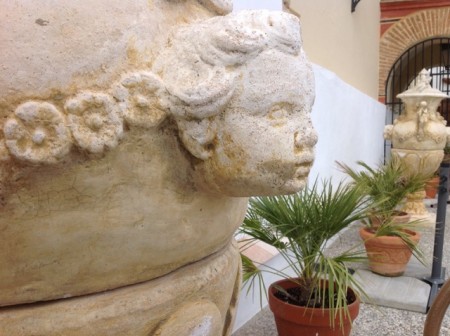 Getting our building application took two years and that felt like an eternity. John and Carol's permit application took six long years, with an added two years of construction on top of that. I can only imagine how many times they were near giving up! Finally, after digs and re-digs, inspections and re-inspections, miles of red tape, local, provincial and who knows what other authorities disapprovals and approvals, and probably ample amounts of hand wringing, they managed to open the doors of their charming Ronda boutique hotel in December. We were invited for a tour and hot drinks by the pool one cool Sunday afternoon, and were nothing short of in awe with what they had accomplished.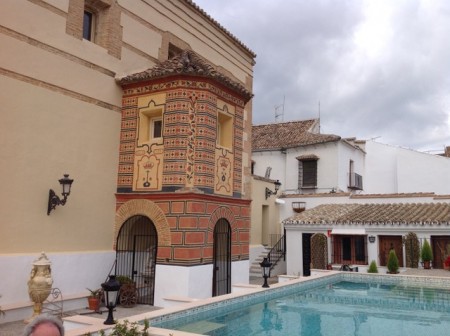 Hotel Monasterio del Carmen is located just a few minutes walk from Ronda's world famous bridge, visited by literally hundreds of thousands of tourists each year. Yet, once you pass into the historic centre and take off down the narrow side street to enter the hotel gates, you will find yourself in a hidden oasis – a private patio facing the old Arab defensive wall with the Serranía del Ronda mountain ranges at a distance. Just the view is worth the stay! The hotel itself is has only four guest rooms, which adds to the intimate atmosphere. Both the garden rooms and the inner monastic rooms are done in a modern, clean, yet comfortable style. The large terraced patio with an infinity pool (surely the only one you will find in the historic part of Ronda) tends to be the favourite place for visitors to have their breakfast, while the lofty church building itself, offers ample space for lounging, reading or catching up on emails while having a glass of wine. The décor reflects the many years that the owners lived in the Middle East, which somehow perfectly complements the buildings long and varied history.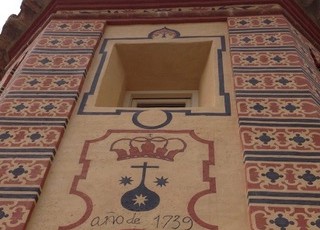 This monastic hotel is not your state-of-the-mill lodging establishment. The original monastery construction was started some time in the late 15th or early 16th century, which brings us back to a period just after Ronda and the rest of Spain had abolished its Moorish population after seven centuries of Arab rule. This was when many of Ronda's old churches and convents were established. Later additions to the church were made in the 18th century, such as the baroque rectangular nave and barrel vault ceiling. It was also then they added the Camarín, or the octagonal small chapel to the east, which can equally be admired from outside. The chapel is now wonderfully restored in its original deep terra cotta hues, with the painted date of its completion – 1738.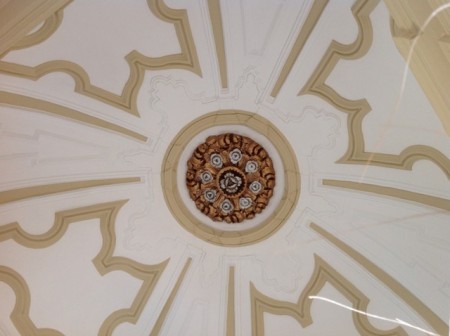 Through the centuries, the church was used for religious services, as a hospital and hostel, as stopping point for pilgrims, and as hideout for republicans and leftists during the Spanish civil war in the 1930's. After the church was deconsecrated some decades back, it was used as a theatre and music hall with an adjoining bar, appropriately located in the upper gallery. By the time John and Cathy bought it, the monastery church had been abandoned for years and was classified as being in very poor condition and in desperate need of restoration.
With such a colourful history, it only seems appropriate that its next reincarnation would be as a resting place for wary travellers. So, next time you plan to visit our little town of dreams, you might want to consider spending a night or two in this hidden treasure. For more information on Hotel Monasterio del Carmen, please go to http://www.hotelmonasteriodelcarmen.com/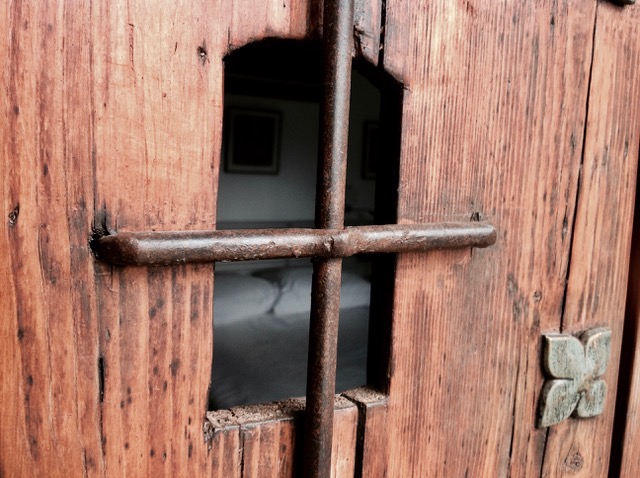 Read / Add Comments